BTE, ITE & ITC Hearing Aids
Hearing aid styles can be classified into three main types; Behind-The-Ear (BTE), In-tThe-Ear (ITE) and In-The-Canal (ITC). Please click on an option below for further information.
This style places the hearing aid behind the ear with a connected tube and mould placed into the ear. The popularity of this style has increased with the evolution in design to what's known as an open fit, receiver-in-the-canal (RIC) hearing aid. This design connects the hearing instrument into the ear via a slim tube with the hearing aid itself located completely behind the ear minimising visibility. Not only is this solution aesthetically pleasing, and very comfortable to wear, but also provides a naturally sounding listening experience, due to the fact that low-frequency signals are allowed to freely pass back out of the ear canal. Although this solution isn't suitable for every type of hearing loss it is appropriate for most hearing aid users.
These devices sit securely in the ear without the need for moulds and tubes to connect the hearing aid. The electronic components are encased in a plastic shell. In most instances it's necessary to take an impression of the ear so that a custom-made device can be manufactured to perfectly fit the ear.
These devices are the smallest of all and are placed further into the ear canal. It is often described as invisible hearing aids. This type of invisible hearing aids are suitable for individuals with a mild or moderate hearing loss. The very small size can sometimes limit the available power output and battery life.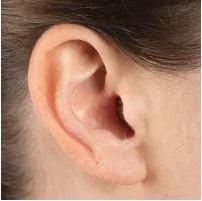 Our Promise
Hear & Now aims to exceed your expectations in everything we do. As an independent, family-run hearing care business, our aim is to provide a personalised, one-to-one customer service experience that isn't available elsewhere on the high street.
Exemplary service. A very clear and detailed explanation of the options for new hearing aids. Much time was spent in equipping me with what was most appropriate for me. Nothing is too much trouble – great care and attention paid at every stage.
I recently attended Hear and Now, Ripon for microsuction treatment. What an excellent service on every level. Professional, courteous and thorough.. I have no hesitation in recommending them and I will certainly be using them again in the future.
Took my 99 year old mum for ear wax removal. We had a fantastic experience with all the lovely staff who definitely know their stuff! She left with much better hearing and a massive smile. She got straight back into her talking books once she returned home. Thank you so much.
I would like to thank everyone at 'Hear & Now' for the outstanding level of service provided to my husband. Every query was dealt with efficiently, patiently and in a professional manner. Their level of customer care is excellent and we would highly recommend them to others seeking assistance with hearing loss.