Hearing Care Centre in Ripon
Who We Support
Everything we do at Hear & Now is guided by our mission – to help as many people as possible to hear better and enjoy life more.
We are truly honoured to have been trusted by our patients to look after their hearing health. We are also aware that the ability to afford our service is not universal. So we have been offering some of our services and support to those who have difficulties in hearing on a voluntary basis.
We support a community group called – Hard of Hearing Club. The group meets monthly at Thirsk Library to provide support for those who have hearing loss. Mike offers advice and talks at those meetings regularly.
We are also supporting the work of Hearing Dogs for Deaf People. It is a charity organisation that trains hearing dogs who transform deaf people's lives. We are currently sponsoring an adorable hearing dog puppy called Willow to become a life-changing hearing dog.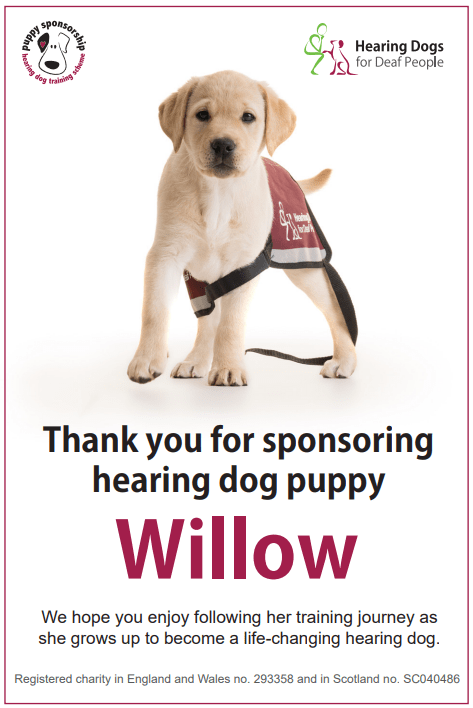 Hearing Aids
Today, more than ever, the best solution for many individuals with hearing loss is hearing aids. Like all high-tech devices, hearing aids have improved significantly over the past serval years in both performance and appearance. Today's hearing aids sound better, fit more comfortably and perform more reliably than even before.
Our Promise
Hear & Now aims to exceed your expectations in everything we do. As an independent, family-run hearing care business, our aim is to provide a personalised, one-to-one customer service experience that isn't available elsewhere on the high street.
Exemplary service. A very clear and detailed explanation of the options for new hearing aids. Much time was spent in equipping me with what was most appropriate for me. Nothing is too much trouble – great care and attention paid at every stage.
I recently attended Hear and Now, Ripon for microsuction treatment. What an excellent service on every level. Professional, courteous and thorough.. I have no hesitation in recommending them and I will certainly be using them again in the future.
Took my 99 year old mum for ear wax removal. We had a fantastic experience with all the lovely staff who definitely know their stuff! She left with much better hearing and a massive smile. She got straight back into her talking books once she returned home. Thank you so much.
I would like to thank everyone at 'Hear & Now' for the outstanding level of service provided to my husband. Every query was dealt with efficiently, patiently and in a professional manner. Their level of customer care is excellent and we would highly recommend them to others seeking assistance with hearing loss.